Living a Christian Life.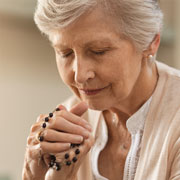 Faith is more than what happens on Sunday mornings. It's a part of who we are, inside and out. At Our Lady of Providence, we believe in sharing the joy of the gospels daily, and living a life that embodies the spirit of Christ.
The history of the Sisters of Providence is rich with religious tradition. It began in 1843 with the founding of the "Institut de la Providence" by Bishop Ignace Bourget, Bishop of Montreal. By 1891 the congregation had expanded to seven provinces in Canada and the United States. That eventually included a convent in Winooski. The convent was later replaced with the modern community we have today.
Every day at Our Lady of Providence is filled with loving and caring motivated by a deep desire to serve our residents and our God. We offer Christian-based religious services in our beautiful chapel. These brief services are held every day, with extended services held on Sundays.
Monday through Saturday 11:00 a.m – 11:30 a.m.
Sunday 9 a.m. – 10 a.m.
"The spiritual side of Our Lady of Providence has been a great comfort. My mom is now able to attend daily Mass and interact with the diverse group of Sisters at OLP."